Field Audit is a retail practice where the professional responsible for conducting audits visits the field (retail stores or stores in malls) and assesses the store. It is an essential retail practice that ensures that a product has the best chance of being purchased. A brand generally hires field representatives to conduct field auditing for them. Amongst other things, their main task is to ensure compliance.
A well-executed retail audit has the potential to ensure product success and expedite sales. You should engage in field auditing if you aren't already. If you're not convinced, read on to learn the top three reasons why you need field auditing.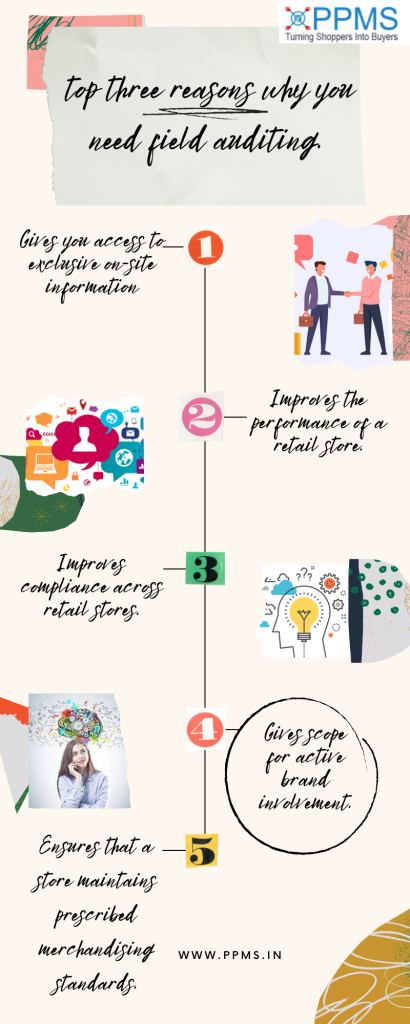 1. Gives you access to exclusive on-site information.
Field audit or a retail audit is crucial because it is impossible to monitor the operation of retail stores and how your products are performing in it from a remote location. You can get on a phone call with retail owners or store managers and ask them for updates, but you won't get a complete picture of the ground reality unless you have a team of field reporters executing a field audit for you.
Moreover, one of the most significant advantages of conducting field audits is that you get access to crucial information that you won't have the opportunity to access if you had not physically visited the 'field' (retail stores). It also gives you an insight into what's happening on-site at a given point of time – thus giving you a wholesome idea of the everyday functioning of a retail store.
2. Improves the performance of a retail store.
Field auditing includes a detailed assessment of a retail store and the products in it. Amongst other things, it includes an evaluation of the store's performance, how different products are displayed on shelves, how a product is marketed, and an inspection of wears and tears (if any).
The goal of this standard evaluation is to help a field reporter understand critical aspects of the day-to-day functioning of a store. Once an assessment is done and the store is inspected, the field reporter makes a note of the weak aspects and communicates this information to the store manager.
They work together to look for gaps, identify areas of improvement, and execute strategies for improvement. The result: improved accountability, swift and timely problem resolution, and better engagement with retail store owners and managers.
3. Improves compliance across retail stores.
Another reason why you need a field audit is because it can help you improve compliance across all retail stores. Since compliance inspection is part and parcel of a field auditing process, it allows a brand to monitor the retail store's compliance with pre-agreed rules and regulations.
As such, we can say that field audits helps a brand ensure consistency and compliance across all locations. With the enforcement of timely audits, retail stores are more likely to follow the established best practices as they are held accountable for their actions. As such, field audits are instrumental in ensuring and improving compliance across retail stores in different locations.
4. Gives scope for active brand involvement.
That a field audit ensures a brand's involvement in the way their products are displayed and marketed on shelves in a retail store is one of the biggest reasons why you should engage in field auditing.
Being a brand that is keen to push up its sales numbers is not enough. To ensure this happens, you need to execute timely checks and balances. You need to monitor the current market conditions and assess how your products are performing in it. All this won't be possible without retail auditing.
By allowing a brand to monitor their products in offline stores, field auditing enables different brands to play an active role in defining and redefining their market strategy.
5. Ensures that a store maintains prescribed merchandising standards.
As a brand, you would have your own sets of guidelines and a pre-established field audit process. You will also have an idea of the ideal merchandising tactics you should follow for your brand. Ensuring that this happens requires that you have an army of talented merchandisers on your team.
Moreover, executing the best merchandising practices requires that designers, merchandisers, and retailers work in perfect harmony. Field auditing makes this happen as it allows you to ensure that your merchandising standards are followed across all stores in different locations in your city.
Conclusion
In this blog, we have outlined the benefits of field auditing for your business and why you should engage in field auditing practices. We hope that this blog has opened your eyes to the window of opportunities that exist in the arena of field auditing. For those of you who are looking for field auditing services, feel free to take a look at the retail audit services we offer here at PPMS.