Product Mix is a process through which you can combine several complementary products and form a meaningful arrangement in your store.
Is your store looking cluttered and confusing? Beware this might reduce your customers as such stores might lead to confusion. Remember, the best way to ensure higher sales and a more remarkable customer base is by resorting to a meaningful arrangement of your products. Once customers walk into your store, they must feel everything is arranged chronologically. Thus, your products must not be scattered.
Retail merchandiser must remember that positioning their products efficiently and ensuring each product is displayed correctly is crucial for its success. For instance, you cannot keep garments and food items side by side. Instead, putting up mannequins decked up with different clothes and accessories from head to toe might entice your customers. Thus, it is crucial to form an efficient and meaningful product mix at your store, whether you sell your products online or offline. Such product sampling helps you promote different products and increases the sales of the new products in your store.
Product merchandising can be the key to your store's success, especially if you have an eye-catching display. Most retail stores fail to sell all their products, especially the new ones because they fail to display them appropriately. It is recommended to develop innovative display strategies instead of submitting to the old-school techniques of product merchandising.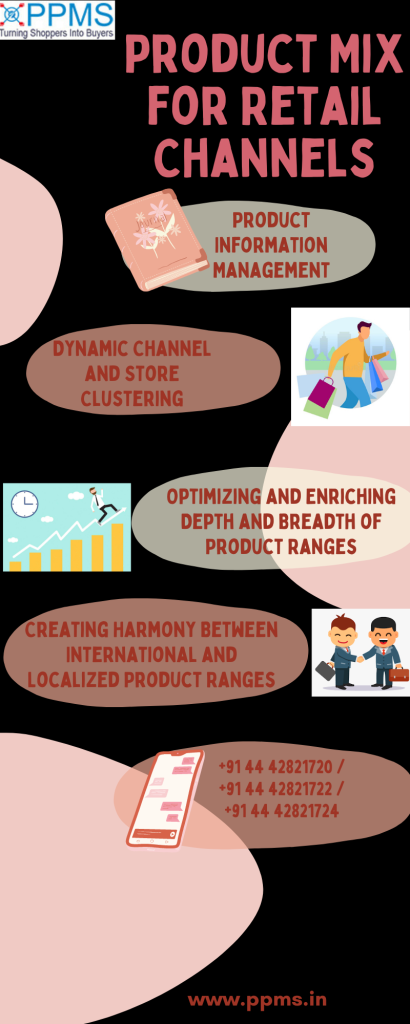 Product Information Management
Product information management is one of the most crucial parts of product merchandising that offers detailed and consistent information to customers about different items. Such a mechanism helps retail stores enhance customer satisfaction and reduce item returns and complaints. This is because the customers receive all the necessary information about every item, thereby reducing confusion regarding them. Product Information Management efficiently reduces human errors in manual data entry and enhances inventory management. Thus, you can avoid both the time and resources invested in managing workers as product information management systems enhance your store's efficiency, which offers a considerable competitive edge over rival firms. This cost-effective management system helps manage supply management chains and replace items before they are out of stock. Thus, Product Information Management systems perform an array of functions that helps in enhancing customer satisfaction and your store's performance.
Dynamic Channel and Store Clustering
Using dynamic channels and efficient store clustering can help you achieve your aims in your retail business. Store clustering is a process of dividing your store into various clusters or segments and displaying items accordingly. For instance, your retail store may be divided into sections specifically for garments, food, and other things. An efficient store clustering helps you optimize the sale of your products and help you enhance customer satisfaction. Thus, store clustering should form a crucial part of your store planning. If you are planning to set up your retail store, focusing on store clustering and dynamic channels is the most vital thing to consider as they function as product promoters. Only through such strategies can you optimize your business and ensure more significant customer reach amongst your target customer base.
Optimizing and Enriching Depth and Breadth of Product Ranges
Diversifying your product range is one of the most crucial aspects to consider while retail planning. Remember, your retail store can increase its target customer base through a range of products. You might end up attracting only a specific income group if you have only a particular brand or type of product. Instead, it would help to broaden your product base to attract various kinds of customers from all income groups. Thus, your store should have a sync between high-end and affordable products. You must also implement product sampling strategies while arranging your store or introducing new products. Product sampling helps you attract customers towards new products and enhance their sales. Once you offer free samples to your customers, it would automatically raise their rush to your store, helping you expand your customer base. Thus, ensure you increase the depth and breadth of your product ranges and consider this in your retail planning.
Creating Harmony Between International and Localized Product Ranges
Maintaining a balance between local and international products in your retail store is crucial. How often have you heard people saying, 'Support your local business? Remember, most of your conscious customers would try to balance international and local products when they purchase, and your store should do the same. If your store has ample international brands and products or the reverse, it would be best to implement product sampling strategies for the other products. Product sampling helps you offer products to your customers for free to buy the products if they like. Remember, such a strategy enables you to increase the sales of the less-sold items and increase your store's popularity. Product sampling helps you attract customers towards specific things and increase their sales. Thus, product sampling enables you to avoid the disbalance between the sale of specific products and the wastage of the rest.