It is no hidden secret that loyal customers are the bedrock of any business. The repeat business from such customers at virtually no marketing investment is an enticing proposition no business can afford to ignore. This is especially true for the retail industry which is highly competitive and where customer sentiment is always shifting.
Unraveling the Biggest Problem in Retail
One of the biggest pain points for retailers in their quest to maintain high levels of customer satisfaction and customer loyalty is the problem of the inventory running out. Periodic mobile retail audits can help you uncover this problem to counter such negative customer sentiment and make course corrections before it is too late. For instance, nearly 70% of purchase decisions by customers are made in front of the shelf and 37% of customers will either purchase another brand or 21% will buy from another store if their favorite brand is out of stock, reveals a Nielsen Research.
When a customer doesn't get the product that is on their shopping list, it is the moment of truth for a business. Even one such instance has the potential to impact the brand loyalty and lifetime value of customers.
Can you afford to take that risk in a highly competitive industry like Retail?
How to Solve the Out-of- Stock Problem
Today, retailers are taking to technology to efficiently manage the SKUs. The advent of retail audit software has made life a lot easier for them to analyze problem areas and take specific steps to overcome the issue of depleting inventories. Here are 5 ways of solving out-of- stock problem through mobile retail audits: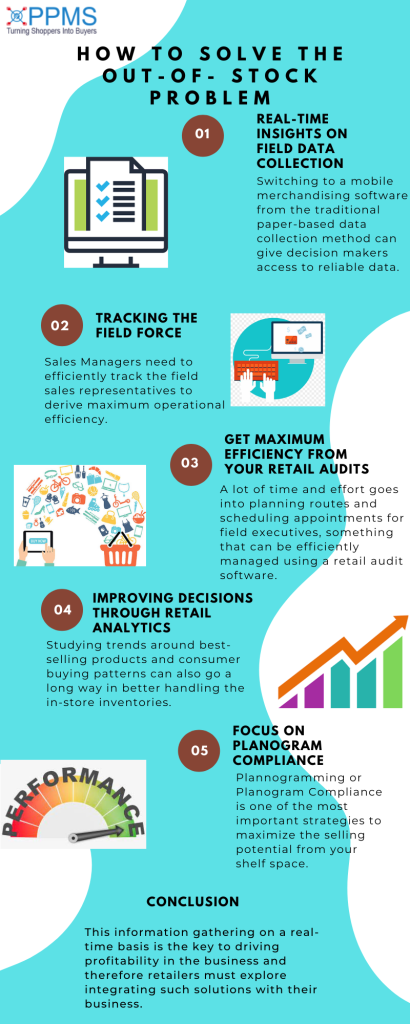 #1. Real-time Insights on Field Data Collection
Switching to a mobile merchandising software from the traditional paper-based data collection method can give decision makers access to reliable data and help them make decisions in real-time and adjust their inventories accordingly.
#2. Tracking the Field Force
Sales Managers need to efficiently track the field sales representatives to derive maximum operational efficiency. Software-driven audits can help managers and territory heads gauge the performance of their field force and do an effective resource allocation.
#3. Get Maximum Efficiency from your Retail Audits
A lot of time and effort goes into planning routes and scheduling appointments for field executives, something that can be efficiently managed using a retail audit software.
#4. Improving Decisions through Retail Analytics
Studying trends around best-selling products and consumer buying patterns can also go a long way in better handling the in-store inventories. Knowing what the inventory levels are needed to be maintained can help in making better business decisions. This is something that a retail merchandising software helps in achieving.
#5. Focus on Planogram Compliance
Plannogramming or Planogram Compliance is one of the most important strategies to maximize the selling potential from your shelf space. An in-depth store audit can help reveal areas where the planogram compliance is not being met or is low and steps can be taken to improve it.
Conclusion
Data fed into a centralized system through mobile retail audit app can give invaluable insights to decision makers in a retail business and help them make decisions faster and with much more accuracy. This information gathering on a real-time basis is the key to driving profitability in the business and therefore retailers must explore integrating such solutions with their business.