Did you know that the global Field Service Management market is expected to reach $4.45 billion by 2022? This was revealed in a report titled, 'Field Service Management (FSM) – Global Market Outlook (2016-2022)' where it also suggests that the market will grow at a CAGR of 16.5% during the forecast period.
Key Application Areas
The widespread adoption of mobile field service management is largely being driven by the following industries: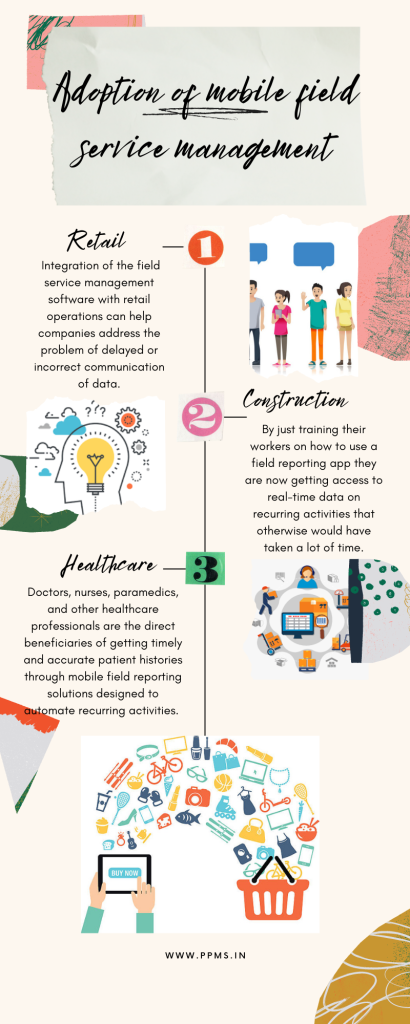 Retail – Integration of the field service management software with retail operations can help companies address the problem of delayed or incorrect communication of data. By carrying out in-store assessments such as managing the SKUs and evaluating customer engagement strategies, periodic retail audits can also be undertaken with pinpoint accuracy using a mobile field reporting tool.
Construction – Tech-savvy professionals in the engineering and construction business are no longer making those regular trips to their construction site to collect data and rightly so! By just training their workers on how to use a field reporting app they are now getting access to real-time data on recurring activities that otherwise would have taken a lot of time.
Healthcare – Doctors, nurses, paramedics, and other healthcare professionals are the direct beneficiaries of getting timely and accurate patient histories through mobile field reporting solutions designed to automate recurring activities. Some of the applications in healthcare include: Lab technicians can schedule and plan route planning, medical representatives can schedule their doctor/hospital visits, medical equipment manufacturers can effectively optimize their resources on the field, etc.
Are you considering introducing a field reporting app to streamline your field operations?
Before you do that, always remember that the end goal of any technology introduction should be to enhance the customer experience directly or indirectly by making it easier for your employees to perform their duties. A field service management software is no different and can help you deliver a better experience to your customers provided you are integrating a FSM solution developed by a leading field reporting company.
Conclusion
Companies no longer need to rely on manual field data collection, storage, and analysis of field data. The proliferation of smartphones and other mobile devices along with rapid advancements in the field of software development have made field reporting a simple and time saving task. Using mobile field service management, companies can now improve communication with their field force, streamline work processes, and introduce measures to enhance customer productivity.