Smaller businesses have always faced significant disadvantages when it comes to field merchandising. However, recent developments are finally putting field merchandising software in the hands of small retail and wholesale businesses. Understanding inventory control, creating Planograms, and working with real-time statistics on sales and store layout can help even a small business perform like a champ.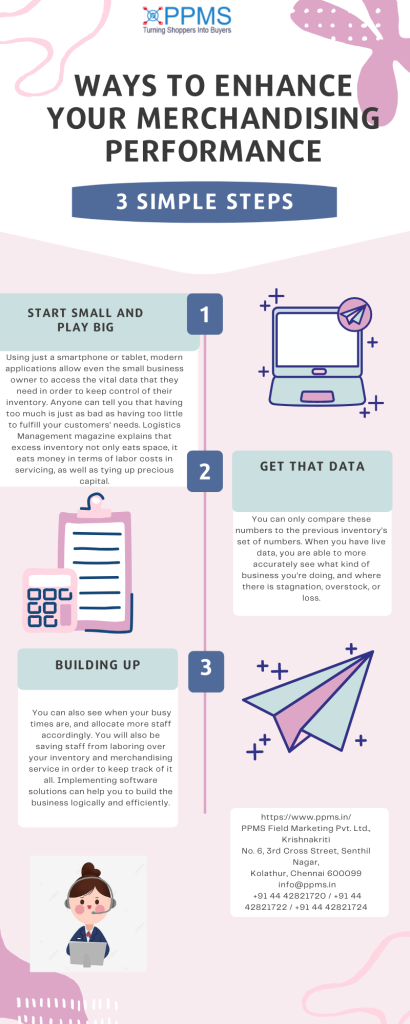 Start Small and Play Big
One of the basic underpinnings of retail merchandising is inventory – literally your stock in trade. You may not be able to sell it if you don't have it, but if you have too much of it that can be just as bad. Learning how to effectively merchandise your inventory means using some of the big player's tools starting with planograms and mobile merchandising software. The Houston Chronicle explained that planograms are in use from the counter of your local gas station, all the way up to big box stores such as Walmart and Target. You may not be able to afford the high ticket services, but you can also learn how to create your own planogram and do your own merchandising. You can even look up planogram ideas on Pinterest and find a lot of them.
With mobile merchandising software, you can track the success of your planogram in moving your merchandise. Using just a smartphone or tablet, modern applications allow even the small business owner to access the vital data that they need in order to keep control of their inventory. Anyone can tell you that having too much is just as bad as having too little to fulfill your customers' needs. Logistics Management magazine explains that excess inventory not only eats space, it eats money in terms of labor costs in servicing, as well as tying up precious capital.
Get That Data
You can gather data simply and securely, use it in real time, and improve your performance. The data gives you so much more than just a static snapshot of your stock. Doing pen and paper inventories doesn't tell you about what your stock is doing from day to day, or how a new placement is working on the floor. It gives you only the numbers that you have on the floor, and in the stockroom. You can only compare these numbers to the previous inventory's set of numbers. When you have live data, you are able to more accurately see what kind of business you're doing, and where there is stagnation, overstock, or loss.
Building Up
Within just a few day's time you will be able to see retail trends that help you to understand how people move through your store, how they react to your merchandising, and what they are buying. You can also see when your busy times are, and allocate more staff accordingly. You will also be saving staff from laboring over your inventory and merchandising service in order to keep track of it all. Implementing software solutions can help you to build the business logically and efficiently.