Today's new generation of customers who are always connected and highly informed are looking for nothing but the best experience from companies. Brand allegiance is more or less inconsequential as it is all about customer experiences and any obstacles on that count can prove to be costly for companies.
Field data collection therefore is an important activity for companies to keep the customer experience top-notch. Retail, Construction, and Healthcare industries often use field data collection software as it puts them in control of the kind of data they want to collect from their customers. They no longer have to rely on manual data collection process that is not only time-consuming but is also prone to human errors when it comes to reporting and interpretation of the data.
Many companies end up building a repository of hard data, an activity that yields no positive changes on the ground. Whether your objective is to improve customer experiences or to enhance operational efficiency, capturing and communication of real-time data and actioning it on a timely basis should be the primary focus.
Here are four ways in which companies and especially the ones in the retail space can put an end to hard data collection and take tangible steps towards the growth of their brand.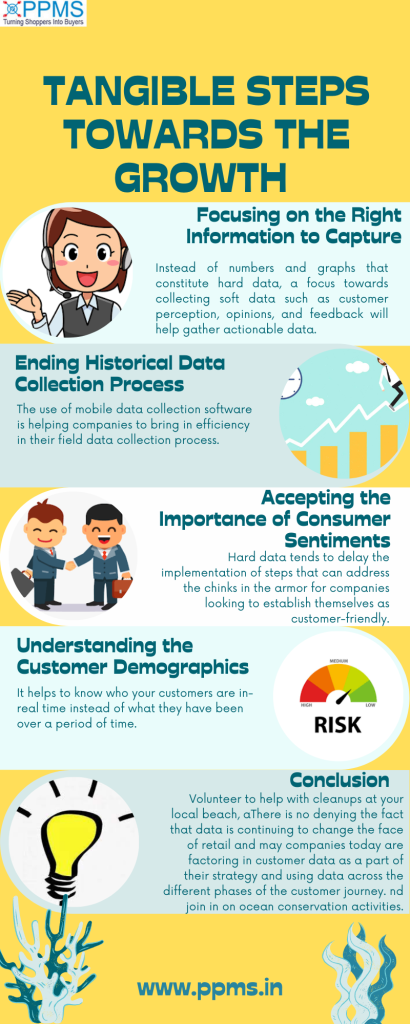 #1. Focusing on the Right Information to Capture
– Instead of numbers and graphs that constitute hard data, a focus towards collecting soft data such as customer perception, opinions, and feedback will help gather actionable data. Such invaluable insights can help companies reinvent their customer-facing strategies and improve their profitability in the process.
#2. Ending Historical Data Collection Process
– The use of mobile data collection software is helping companies to bring in efficiency in their field data collection process. There is no point collecting a stockpile of data over a period of time when in today's competitive times it is all about agility in responding to your customer's needs.
#3. Accepting the Importance of Consumer Sentiments
– In this day and age of social media, where one negative customer sentiment has the chance of spreading like wildfire to many users in just a few seconds, brands must act with caution. Hard data tends to delay the implementation of steps that can address the chinks in the armor for companies looking to establish themselves as customer-friendly.
#4. Understanding the Customer Demographics
– Going out there in the field and using a field reporting software to communicate to decision-makers about the customer demographics can help them strategize accordingly. It helps to know who your customers are in-real time instead of what they have been over a period of time.
Conclusion
There is no denying the fact that data is continuing to change the face of retail and may companies today are factoring in customer data as a part of their strategy and using data across the different phases of the customer journey. Data driven decisions are the need of the hour, especially for companies operating in the ever so competitive retail sector. Are you doing your data-collection right?