As an entrepreneur in field service management, regardless of your industry, the key to a successful venture is the open flow of information, effective task assignment, and fast customer service. This can all be achieved with the right technology.
5 Field Service Management Mistakes that Entrepreneurs Need to Avoid
Here are five mistakes to avoid as you're guiding a field service management startup.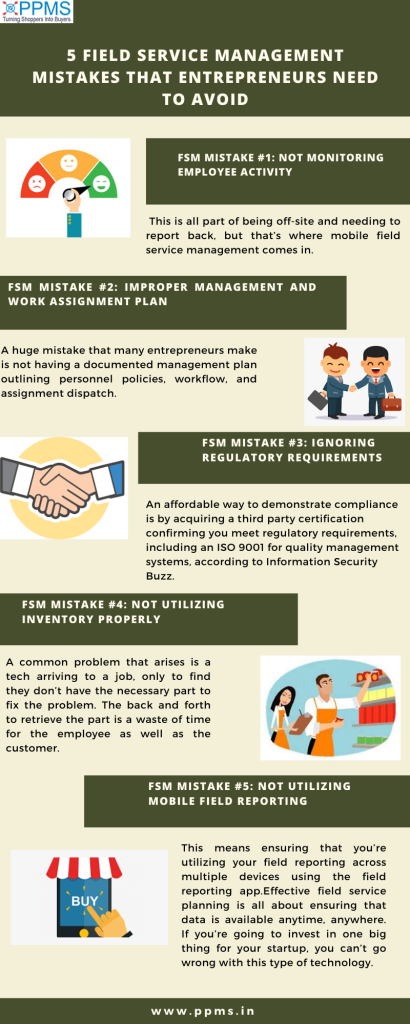 FSM Mistake #1: Not Monitoring Employee Activity
One of the biggest issues when it comes to field service management is not being able to monitor employee activity and progress over the course of the day. This is all part of being off-site and needing to report back, but that's where mobile field service management comes in. Using software automates this process, allowing real time updates of task progress throughout the day.
FSM Mistake #2: Improper Management and Work Assignment Plan
A huge mistake that many entrepreneurs make is not having a documented management plan outlining personnel policies, workflow, and assignment dispatch. For example, when your employee is out in the field, they should be thoroughly trained on the technology they're using to do the work. Successful implementation of tasks and assignments that get done fast are usually due to a seamless flow of data. Using a mobile system that's concentrated in the cloud is an excellent tactic to ensure stellar, organized management.
FSM Mistake #3: Ignoring Regulatory Requirements
There are many regulatory requirements that your business needs to meet. An affordable way to demonstrate compliance is by acquiring a third party certification confirming you meet regulatory requirements, including an ISO 9001 for quality management systems, according to Information Security Buzz.
FSM Mistake #4: Not Utilizing Inventory Properly
If there's one thing that's worse than wasting time is actual resources. A common problem that arises is a tech arriving to a job, only to find they don't have the necessary part to fix the problem. The back and forth to retrieve the part is a waste of time for the employee as well as the customer. However, using field service management software means you can also tap into such features as scanning bar codes of materials used. This centralizes all available resources and prevents unnecessary time drains from occurring.
FSM Mistake #5: Not Utilizing Mobile Field Reporting
The fact of the matter is customers want instant gratification, and it's important to deliver. Entrepreneur makes the point that customer retention is less costly than customer acquisition. This isn't an unreasonable expectation, given the current digital age, but you need the proper tools to offer up things like generation of job quotes, instantaneous invoice creation, and even receiving customer feedback. This means ensuring that you're utilizing your field reporting across multiple devices using the field reporting app.
It doesn't stop with customer service, though. Using a field reporting app also means you can manage your workforce through real time mobile updates. This allows you to assign and tweak work assignments throughout the day to maximize sales force efficiency.
Effective field service planning is all about ensuring that data is available anytime, anywhere. If you're going to invest in one big thing for your startup, you can't go wrong with this type of technology.