The old saying "What you see is what you get" applies in numerous ways within the typical storefront. Product presentation and placement, employee dress and grooming as well as the cleanliness of your store are essential factors to consider when it comes to a high-quality shopping experience. However, your store's visual merchandising plays an integral role in catching the eye of your consumers and convincing them to become paid customers.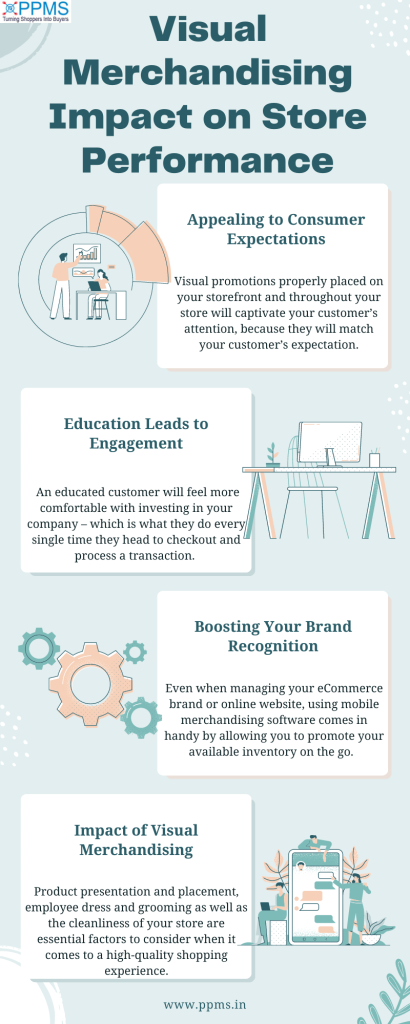 Appealing to Consumer Expectations
A major reason for the significance of your merchandising audit is to make sure your storefront appeals to and accommodates the expectations of prospective and returning customers. Thirty-five percent of a group of surveyed corporate executives agreed that their customer's expectations of their respective companies were much higher in 2015 than in 2012, as per eMarketer. Visual promotions properly placed on your storefront and throughout your store will captivate your customer's attention, because they will match your customer's expectation.
If you advertise the products promoted in your televised commercials, online ads or even printed publications, those are the items that interested consumers will search your aisles to find. Knowing exactly where they can get those showcased items will increase your productivity and overall revenue.
Education Leads to Engagement
Merchandising visually within your storefront leads to educating your growing customer base as well, establishing your brand as a trusted authority and expert within your industry. An educated customer will feel more comfortable with investing in your company – which is what they do every single time they head to checkout and process a transaction. Your merchandising allows your customers to be educated with limited interaction (if any) from you and your staff. This will save your company a lot of time in the long run without ever having to sacrifice productivity by doing so.
Your staff will have more time to focus on closing sales, enhancing the quality of the overall customer experience or other aspects of your store's operations that are more profitable in nature. The key, though, is that it creates a self-sustaining sales environment where your customers will be able to follow your merchandising layout to find exactly what they need without requiring your one-on-one assistance to get them to that point.
Boosting Your Brand Recognition
Another key benefit to consider is the enhancement of your brand recognition through effective merchandising. Even when managing your eCommerce brand or online website, using mobile merchandising software comes in handy by allowing you to promote your available inventory on the go. Your consumers will be able to learn more about your company and what it must offer just by becoming more familiar with your store's merchandising. They will grow more and more comfortable with your products and your brand, which will directly affect your store's performance by increasing sales and revenue along the way.
Whether you have a traditional brick-and-mortar business or an eCommerce store website, advertising is used to drive visitors toward your storefront. However, it is your visual merchandising system that will captivate and keep their attention. Focus on developing your merchandising plan strategically to reap lasting benefits and performance boosts from it.