When it comes to collection data from the field, one of the biggest hindrances facing field agents is the inaccuracies which are deep-rooted in paper collection methods. The other major hindrances include the costs incurred and delays which tend to demotivate even the best of teams.
Owing to the dependency on field agents to collect data, field data reporting using mobile phones is ruling the roost these days. IVR, SMS or any app can be used to support the data-collection process for non-profit organizations, health firms, corporations and brands. This transition has allowed for a shift, and there is now a demand for a data collection platform which is inexpensive, can work quickly and can seamlessly integrate with other operating systems.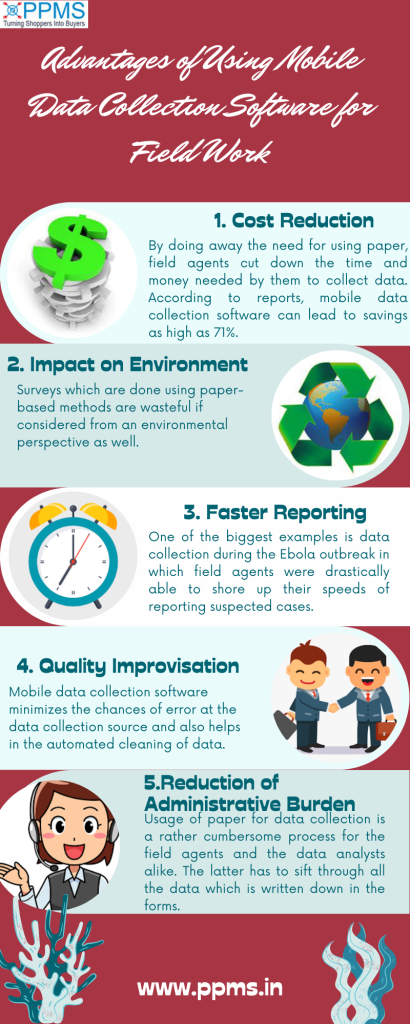 No wonder, field reporting software is the best fit for companies which require a plethora of quantitative data, in the form of not only numbers, but photos and videos as well. This greatly aids in streamlining data which can offer the following benefits –
Cost Reduction
By doing away the need for using paper, field agents cut down the time and money needed by them to collect data. According to reports, mobile data collection software can lead to savings as high as 71%.
Impact on Environment
Surveys which are done using paper-based methods are wasteful if considered from an environmental perspective as well. A bare-minimum act of surveying some odd 5,000 households can waste a lot of fuel, water, and necessitates the cutting down of trees as well.
Faster Reporting
The usage of filed reporting data collection software reduces the time needed for data collection, analysis and distribution. One of the biggest examples is data collection during the Ebola outbreak in which field agents were drastically able to shore up their speeds of reporting suspected cases. The benefits are equally applicable when supply levels or maintenance issues are being reported.
Quality Improvisation
Mobile data collection software minimizes the chances of error at the data collection source and also helps in the automated cleaning of data. Such data is also less prone to errors and if by chance an error does occur, the turn-around to rectify the error is lesser with a promise of more accuracy.
Reduction of Administrative Burden
Usage of paper for data collection is a rather cumbersome process for the field agents and the data analysts alike. The latter has to sift through all the data which is written down in the forms. If any modifications are made in the forms, it becomes an uphill task to prepare and distribute the data. If mobile field data collection software is used, a click on save is all you need to make the updated or altered data. The data can also be stored, copied, backed up on the cloud and even encrypted for accessing securely in the future.
In other words, for the aforementioned reasons, every organization stands to benefit by switching from paper to mobile-based data collection system.