What are Retail Store Fixtures?

In layman's terms, retail store fixtures are structures used in-store to display inventory or products attractively. To know what kind of fixtures will benefit you the most, let's understand the options available and get an overview of how they can help. Fixtures can be anything as simple as a pegboard to a life-size display. These are ideal elements to advertise specific brands, new arrivals, seasonal promotions and offers, premium products, or highly demanded items.
Visual Merchandising is a crucial term for retailers. Strategic merchandising attracts customers' attention and increases sales. The store must attract passersby while creating a comfortable yet exciting journey for customers within the store. Thus, visual merchandising involves the use of color schemes, floor layout, display fixtures, etc. All kinds of institutions play a unique role in visual merchandising. As a retailer, you must find out which one's more important to you and how they can drive sales.
Fixtures compel customers to buy the product. Through planned use of retail fixtures and floor displays in a store, visual merchandisers help retail store owners to make the most out of their inventory. Good visual merchandising doesn't focus solely on sales but brand building, customer engagement, and retention. The fixtures at the store communicate a particular brand message. Fixtures help customers engage with products easily and find out if that product will benefit them. 
Read more:- The Ultimate Guide to Visual Merchandising in Retail Store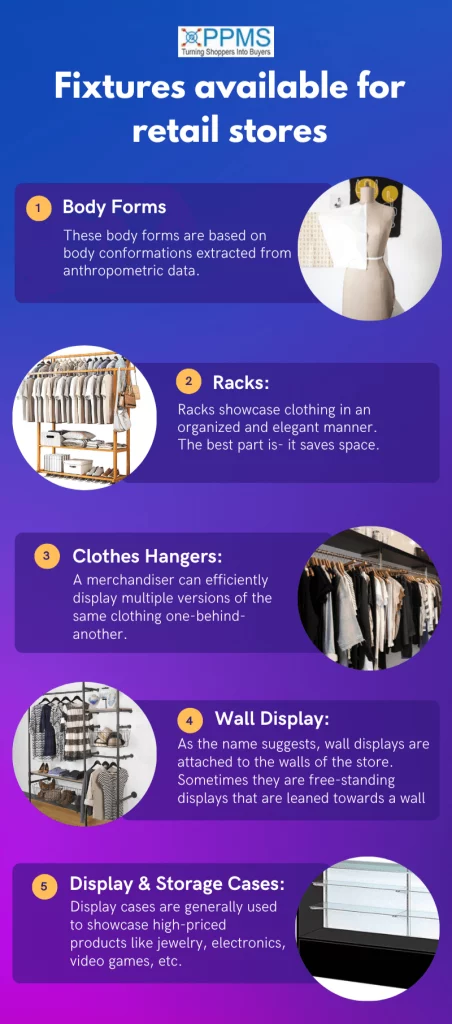 Types of Fixtures in Retail Store
Body forms

Racks

Hangers

Wall displays

Display cases
Store fixtures are inexpensive ways of decorating your store and attracting customers to it. Let's analyze how these fixtures can enhance your store's visual merchandising:
Body Forms: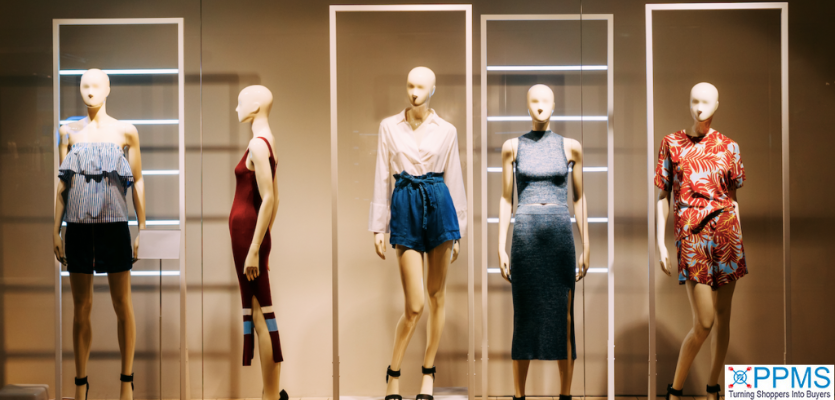 You have noticed fit models in retail and apparel stores that display clothing, jewelry, and wearable accessories. These body forms are based on body conformations extracted from anthropometric data. Customers can visualize how the item will look on themselves. This type of retail store fixture works best for apparel stores. Proportion and sizes are the limitations of body forms as a retail store fixture. They may not reflect the physique of customers perfectly. Moreover, they need to be placed in big stores. It's not recommended to install these fixtures in small stores or kiosks. Here are common body forms that you see at stores:
Mannequins

Dress Forms

Bases & Neck Blocks

Hosiery forms

Display heads
Read more:- The Ultimate Guide to In-Store Retail Audit
Racks: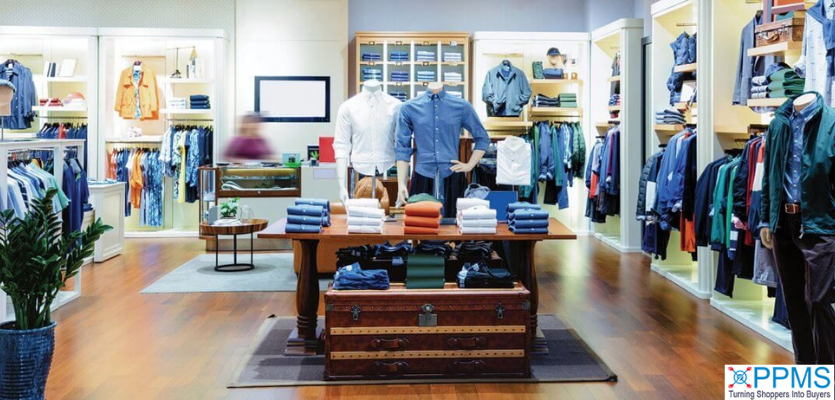 Do you need a retail store display fixture to show off your store's clothing? Well, you can use racks to display the clothing inventory. Racks showcase clothing in an organized and elegant manner. The best part is- it saves space. Small and medium-sized stores benefit from these kinds of fixtures. It's a boon for retailers looking to have an inexpensive customized clothing display. Some of the types of racks you'll commonly find in stores are:
Spiral Racks

Round and Half-Round Clothing Racks

Spinner Merchandising Racks

Shelf Racks

Single-Rail Clothing Racks

Multi-Rail Clothing Racks

Rolling Garment Racks

Garment Bag Racks

4-Way Garment Racks

Corner Racks

Towers & Gondolas

Tables
Read more:- A Complete Guide to Retail Merchandising
Clothes Hangers: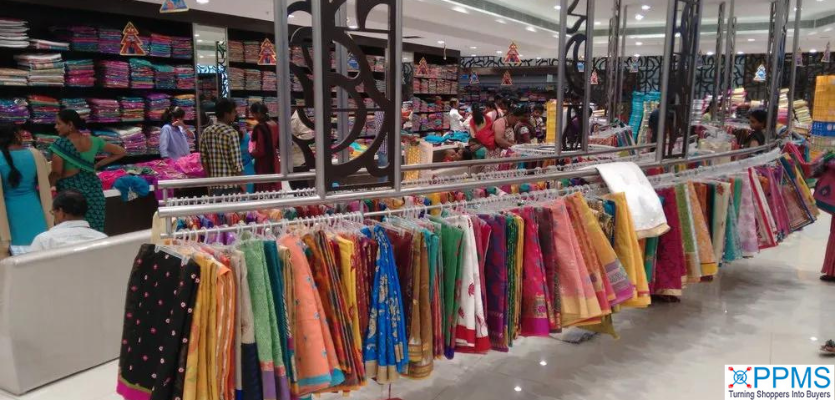 Almost all apparel stores use hangers to display the variety in-store. A merchandiser can efficiently display multiple versions of the same clothing one-behind-another. Shoppers can quickly scan through the options available. You can buy hangers in bulk and save some bucks. There are different types of hangers- plastic, wooden, and metallic. While hangers are space-savers and inexpensive, high chances are they'll get misplaced easily. Sometimes customers leave it behind on store racks and floors, making the store appear messy. There are different types of hangers:
Dress Hangers

Pants Hangers

Skirt Hangers

Children's Clothing Hangers

Suit Hangers

Coat Hangers

Lingerie Hangers
Read more:- Retail Promotion: 5 of the Best Ideas for Retail Stores
Wall Display: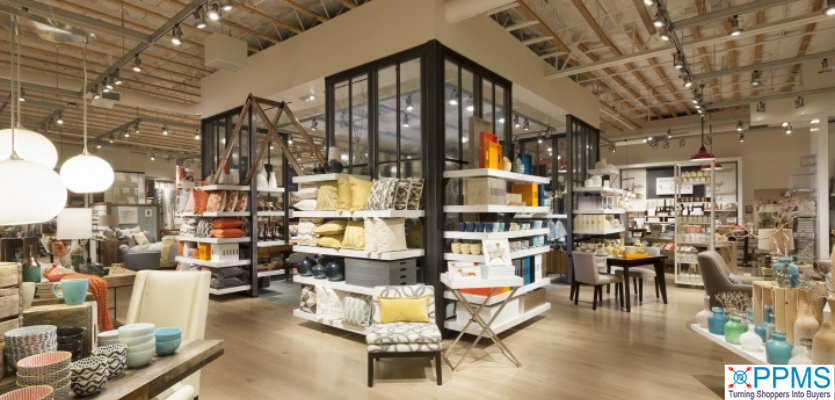 As the name suggests, wall displays are attached to the walls of the store. Sometimes they are free-standing displays that are leaned towards a wall. It offers unlimited customization opportunities. One can display shoes, clothing, accessories, purses, small electronic items, etc. These displays are made up of wood, plastic, or metal. You'll find a variety in these displays, and you can choose one that suits your needs:
Outrigger Displays

Waterfall Display Fixtures

Straight Arm Display Fixtures

Perimeter shelving

Wall Mount Garment Hooks

Multi-Sided Fixtures

Floor Stands

Slatwall Panels & Inserts

Gridwall Panels and Displays

Baskets

Dump Bins

Pegboards

Pipeline Rolling Racks
Read more:- What is a Retail Store Display? How can you Build an Effective Store Display?
Display & Storage Cases: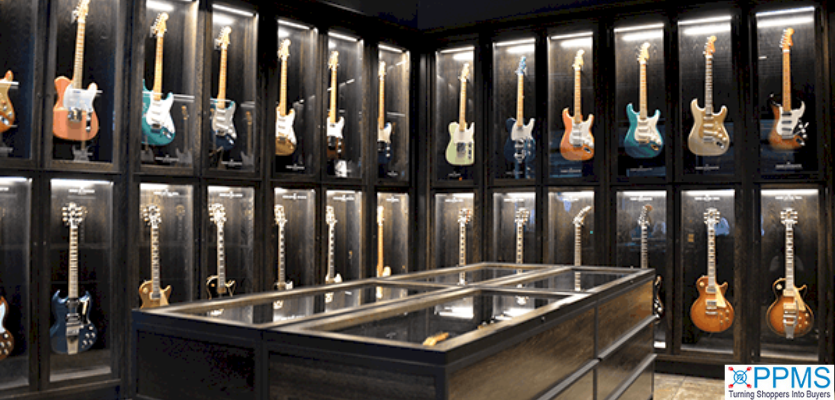 Are you looking for a great product display that is not only convenient but also a secured storage idea? Display cases are generally used to showcase high-priced products like jewelry, electronics, video games, etc. These are ideal storage cases that display products clearly, but the problem is they are bulky and cannot be set up anywhere in the store. You can have them in specific areas like the center or back of the store near the cashier. 
Full Vision Display Case

Half-Vision Display Case

Wrap Counter

Cash Register Stand
Sales promotion strategies using fixtures will pique the customers' interest and compel them to purchase. 
Read more:- Top 4 Key Principles of Successful Retail Marketing