Prospective customers continuously engage with your company and are impressed when they are offered appealing products. Marketers chiefly aim to keep this going. Nonetheless, when even the most critical and effective marketing strategies are unable to lure your target audience into buying your products, how can you keep your customer engaged and bring them back into buying your products? Here is where customer activation comes in. In this guide, we will discuss how you can begin your journey of consumer activation.
Turning your target audience into prospective clients can be a daunting task. PPMS is an industry leader that specializes in field marketing services. PPMS offers noteworthy services to several industries, including FMCD, FMCG, banking, e-commerce, telecom, and much more.
Customer Activation
Customer Activation involves inspiring and driving customers to move into the next stage of the marketing cycle. It employs distinct ways of attracting new clients or re-engaging your old clients. Customer Activation can be the new go-to for promoting your sales and revenue. It is a systematic approach to re-engage prospective customers in your products and explain the benefits to them. You will be able to acquire new customers or inactive customers and enhance customer satisfaction too.
Consumer activation helps in promoting the retailer-customer relationship and helps companies create much more well-versed and informed strategies. It gives companies an idea into how they can consistently improve their quality of content so that the customers remain engaged.
Design a Persona for Your Customers
Creating a robust consumer activation strategy happens when you design buyer personas. Buyer personas are the fundamental demographics, needs, motivations, behaviors, and transactions of the customers. Understanding these elements can give you insights into what the customers want.
Determine Online Behavior
Online behavior is an approach towards tracking, identifying, and studying the behavior of customers on the Internet. You can jot down customer preferences and interests this way.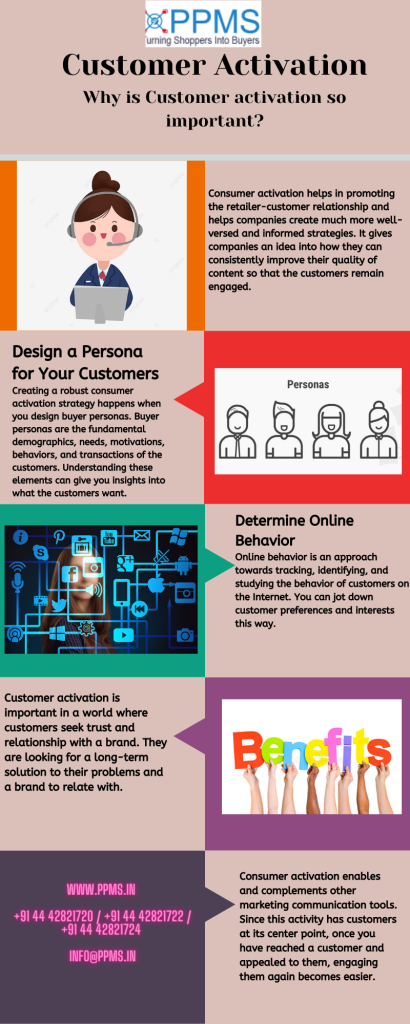 Why is Customer activation so important?
Consumer activation plays an important role in engaging customers and increasing sales. Here are two main benefits of customer activation.
1. Customer activation is important in a world where customers seek trust and relationship with a brand. They are looking for a long-term solution to their problems and a brand to relate with.
2. Consumer activation enables and complements other marketing communication tools. Since this activity has customers at its center point, once you have reached a customer and appealed to them, engaging them again becomes easier. It is akin to creating a path towards a customer. Once that path is created, reaching your customers with other forms of communication is simpler.
To Wrap It Up
Understanding the above-mentioned key components will be helpful to expand your customer base and simultaneously enhance customer delight. Customer Activation is thus the proven game-changer for building your brand sales.
While customer activation has myriad benefits, PPMS can help you uncover these perks, thereby drastically improving your company's efficiency as a whole. With PPMS, you get:
Cutting-edge solutions that meet your need with efficiency
Broadened expertise in the

product sampling

A partner that can adapt to changing situations in the field with high level of agility
PPMS is a technology-backed company determined to help any business by offering customized and reliable solutions. If you are looking for tremendous success in conversion rates and business success as a whole, PPMS should be your pick.