Many people have heard of mystery shopping. From a layman's standpoint, it seems straightforward: you purchase goods or services under the guise of being a regular customer, report your experience and get paid. However, there is much more to being a mystery shopper than most people might estimate, and it can be both a fun and frustrating experience depending on the person involved and how prepared they are for their retail interaction. Let's examine the job, and blow away some of the smoke that shrouds being an effective mystery shopper.
What is Mystery Shopping?
Mystery shopping is indeed the practice of patronizing certain store, hotels, restaurants, resorts, and other retail locations to partake of their services or goods and provide feedback to the company through a parent mystery shopping organization. However, evaluating the merchandise and experiences had during these assignments involves more than simply filling out a questionnaire and moving on to the next job. The information provided during mystery shopper evaluations can assist in retail audits and influence the future of brands drastically.
Typically provided by market research companies, retail store audits are appraisals of a merchant's sales statistics, customer satisfaction, promotional effectiveness, as well as other valuable aspects of marketing. Retail audit software compiles this information and creates an easy-to-read, comprehensive picture of a business' overall success, as well as what areas have room for improvement and which might need immediate attention.
This can be heavily influenced by the presence of mystery shoppers who give a live representation of consumer experience and can report accurately on how on-site interactions are being managed. Once a company understands how real customers – be they paid or otherwise – are seeing their storefront or property, they can use retail merchandising software and other tools to adjust and improve the goods and services they offer.
Being the Best Mystery Shopper You Can Be
Mystery shopping can be a fun and exciting experience, but there is a right way to perform the tasks required of a good mystery shopper. Some of these include: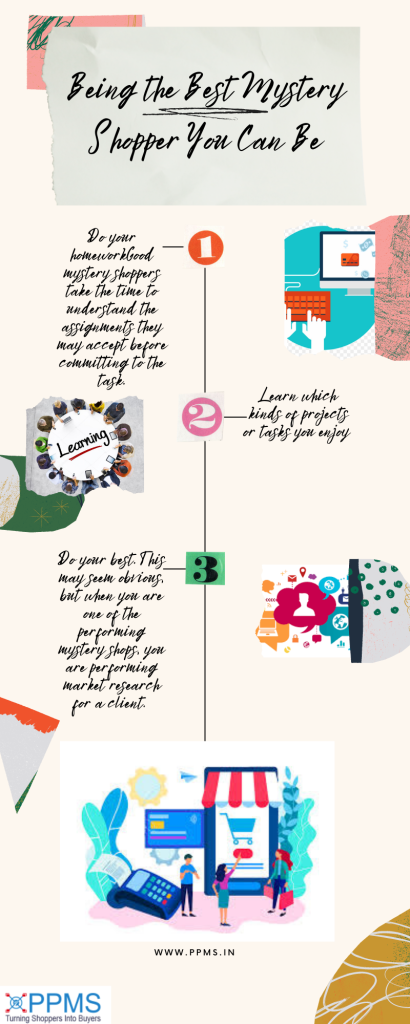 Do your homework. Good mystery shoppers take the time to understand the assignments they may accept before committing to the task. This way, they can be sure that they will be able to provide the best possible feedback.
Learn which kinds of projects or tasks you enjoy and are most adept at doing, and choose the right jobs for you. Shoppers perform better when they are familiar with the types of jobs they are doing and enjoy their work.
Do your best. This may seem obvious, but when you are one of the performing mystery shops, you are performing market research for a client. You need to be as honest with all involved parties as possible. From the staff members of the site you are interacting with to the mystery shopping company you are expected to report back to, the only way that a benefit will be realized from your tasks is if you are honest, reliable and perform your duties to the best of your abilities.
Additionally, mystery shoppers should always be aware that scams exist within the industry. Red flags for scams include lack of payment or unclear explanation of payment, unclear directions as to what participants should do during jobs, and negative reviews listed in online forums from people who have dealt with the group previously. If none of these warning signs exist, a prospective mystery shopper should still proceed carefully. It is important to ensure that the duties required are within the abilities of participants, whether that involves travel, upfront cost or social interaction. Those that find themselves ready, willing and able can look forward to rich and rewarding experiences that are made all the better by being paid to shop, sip or stay.