Many retail brands struggle with the problem of measuring, tracking, and reporting on the performance of the various aspects of their retail operations. The struggle is real, be it of extracting data from a single store operation for evaluating the in-store experience of the customers or to track the performance of the sales force spread across multiple stores. The traditional ways of getting information through emails, phone calls, or text messages Just Wouldn't Work!
Today, there is a lot at stake for retailers across geographies as the retail industry has become quite competitive. By not focusing on eliminating recurring activities that result in a lot of time, cost and effort will eventually fade you out of the race to be the leaders that you aspire to be.
Fortunately, the advancements made in technology and especially software development offer a solution, one that makes life a lot easier for the different stakeholders in the retail chain from the Retail Managers and the Zonal/Regional Heads to the top decision makers.
By integrating retail audit software with your retail operations, you can automate the manual processes and let the flow of information happen much quicker. The fact that decision makers can access this information on any device, anytime, anywhere makes mobile retail audits a reality today. Such periodic retail audits can help in delivering the following benefits: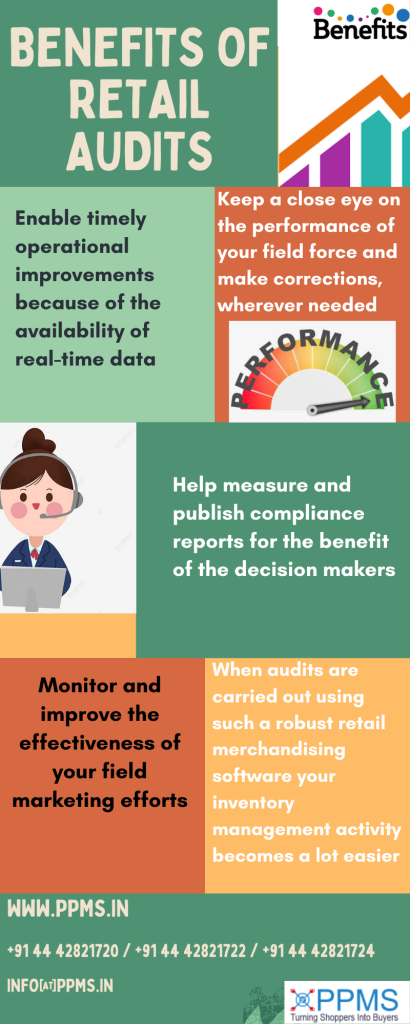 Enable timely operational improvements because of the availability of real-time data
Keep a close eye on the performance of your field force and make corrections, wherever needed
Monitor and improve the effectiveness of your field marketing efforts
Help measure and publish compliance reports for the benefit of the decision makers
When audits are carried out using such a robust retail merchandising software your inventory management activity becomes a lot easier
These benefits will eventually help you in improving operations and delivering an unmatched Customer Experience!
Research Points to the Need for Mobile Retail Audits
When asked to identify which shopping channel needed the most improvement, the top answer came out to be "physical stores", in the Seamless Retail Research Survey by Accenture which went into surveying nearly 10,000 customers and 190 retailers globally on their ability to deliver a seamless shopping experience to their customers.
This finding helps establish an important point: The retail experience for your customers can no longer remain static.
Investment in retail audit software will therefore help you unravel problem areas around which you tend to lose customers to your competition and make improvements accordingly. Such audits will put you firmly in control of the Customer Experience and help get a good grasp on the various aspects of your retail business. Whether you are exploring it as mobile field merchandising software that helps you maintain the SKUs across your retail stores or using it to monitor and improve field performance, the benefits are there for the taking.
So, are you ready to usher in this new era of retail excellence and deliver an outstanding experience to your customers?