With the holiday season in the US fast approaching, pop-up is the word everyone knows. While traditional mall stores like PacSun and Aeropostale are falling like dominoes, pop-up stores are bringing brands to locations that they previously never considered. Originally used during the recession to plump up empty mall storefronts, pop-ups have escaped the mall and shown up in all kinds of surprising places and popping up $50 billion in revenue according to Independent Retailer. Deploying a pop-up store can enhance revenue and brand recognition, but you're going to need to consider how to manage your stock, reps, and merchandising at locations remote from your flagship. Take these ten tips and run with them!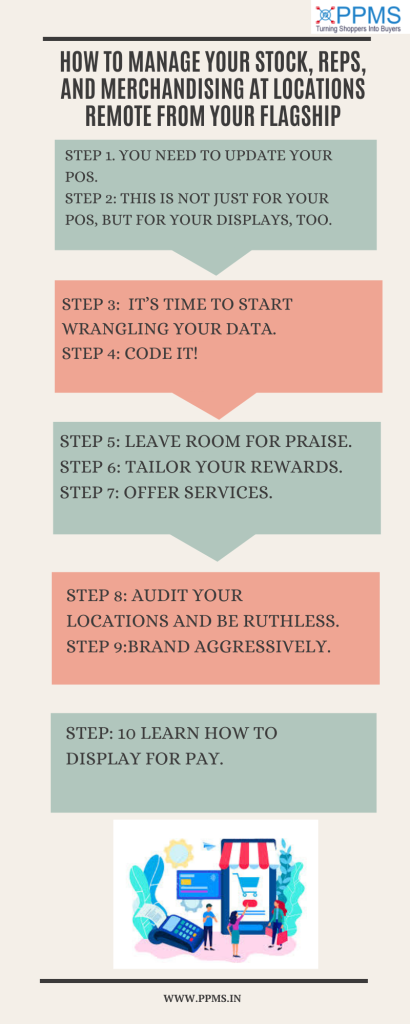 You need to update your POS.
Yes, you do. Picking up a modern POS like Square can lighten your load considerably. These tablet-and-card reader based POS systems can also bust up the checkout line and speed customers on their way with their purchases.
This is not just for your POS, but for your displays, too.
With the simple addition of a tablet and a stand, or even a monitor, you can make your merchandise more accessible and collect customer data. Make the experience as interactive as possible, inviting the customer to tap, swipe, and answer questions.
It's time to start wrangling your data.
Retail merchandising is a challenge, and you need to be able to access that data in real time. You need to know your stock levels, busy hours, what items are hot and what's not. Working with a top provider of field merchandising software can help you put your data to work. Once available only to the big players, apps are bringing this portable and vital tool to players of all sizes.
QR codes are an underutilized marketing tool, especially when you consider the prevalence of smartphone users. A QR with a "Scan Me for More!" CTA will bring you amazing results. Remember, prices can be rock bottom, but customers will go for perceived value and experience. QR printers are not expensive – some can even print barcodes or customer receipts, too.
Retail staff is often a thankless job, but there's a way to make your changes boost your staff's morale. Reward performance and efficiency, by tracking not just sales and checkout dollars, but by letting customers give your staff five stars, too. A tablet and stand, and the question, "Who helped you today?" Can go a long way to showing you who your star players are.
Customer purchase histories can go a long way to taking a loyalty program to the next level. Instead of a coupon or a generic freebie, offer an item that's congruent with their previous purchase history.
It's not enough just to offer gift wrapping. Ship-from-store-to-door gets that gift on the way, while pick up at store (with an express checkout line) and curb service integrate your web store with your pop-up location.
Audit your locations and be ruthless.
To perform an effective retail audit, you need to ask the right questions and look hard at your existing operations, location, staff, and promotions. The San Francisco Chronicle has some excellent starting points for creating your own effective survey. You may also want to get input from in-house by conducting surveys with your own employees.
Your logo should be clearly represented not only on your store, but on your materials such as bags, price tags, coupons, and signage. Take the time to develop a consistent set of signs, fonts, and other items that will remind your customers of their purchase long after they've left the store.
Learn how to display for pay.
Effective merchandising is a visual art, and creating displays is not just about chucking a bunch of items onto a rack or gondola. Use "blank space" around your items to highlight them – the same way that a jeweler uses matte black velvet to show a diamond to best advantage. Keep it simple and uncluttered, but don't be afraid to cross merchandise with other relevant items.
It's not too late in the year for you to start repositioning your company for pop-up success. However, it's vital to get a successful foundation to build on. This starts with software, a POS system, and a successful integration with your back office systems in order to track orders from your vendors, stock levels, sales, and other vital information. You may even need to bring in barcoding and QR equipment, but the investment of time and money will be worth it in the long game. Get started by contacting FReD, and find out what your data can do for you all year long.