What is Product Distribution?
To answer this question, first, you must understand what distribution is. And so, what is distribution?
If retail promotion is not a new concept to you, you must be familiar with the 4P's of marketing. That is Product, Price, Promotion, and Place, which refers to distribution.
You have a product you want to sell at INR 50. So you advertise it, and now you have potential buyers. The problem is your product is still in the warehouse. How does it reach your customer anyway? You'll need to find a way to make your products available to your potential buyers. That is what distribution is all about.
Therefore you can conclude that product distribution is the process of distributing or bringing your products and services closer to the end-user or consumer who needs/demands them.
All customers are unique. They come from different locations. They all expect you to deliver various product sizes/volumes when and where they need you to do so. How then will you handle all that without disappointing yourself or the customer?
You need a plan!
And that's what we refer to as the distribution strategy. It varies from one business to another depending on so many factors, including your industry, distance, nature of customers, season/ time of the year, nature of the product, cost, employees, etc.
Know Your Product Distribution Channels?
Product distribution costs time. It costs money too?
What does that mean for your business?
The distribution strategy or strategies you choose to implement will determine how much time and money you spend in one cycle. It will directly impact the customer experience, productivity, sales, and profits, among other things. That's why choosing your product distribution channels is so important.
A product distribution channel refers to all the stages that your product passes through, from the moment it leaves your warehouse to when it gets to your customer. Examples include
The distributor
The wholesaler
The retailer
The internet

and so on
There are two types of distribution channels. These are
Direct channels
– producer deals with the customer directly,
Indirect channels
– involves one or more intermediaries between the producer and the consumer.
Take your time to understand your business and find the best retail promotion ideas to choose the most effective product distribution channel.
3 Types of Product Distribution
As stated above, there are two types of distribution channels. Choosing the right one is the first step to create the perfect distribution model.
But there is just one problem!
The process is so complicated and confusing; it's so easy to mess things up.
Analyze and understand each distribution channel – its advantages and disadvantages.

Define your needs.
These are the two things you need to identify the ideal distribution model. Factors to pay close attention to include
The shelf life of your products
The size of the market for your products
The size of your company
Your product mix
State of the economy
The cost of the distribution channel
Customers' tastes and preferences
Localization

,
That said. There are three types of distribution strategies, depending on the choices you make above. These are
Intensive Distribution
Selective Distribution
Exclusive Distribution
Other factors that may affect your distribution strategy include
The location of your business
The locale of your target market
Warehousing
Logistics and transportation
Now let us look at the three types of distribution strategies and their differences.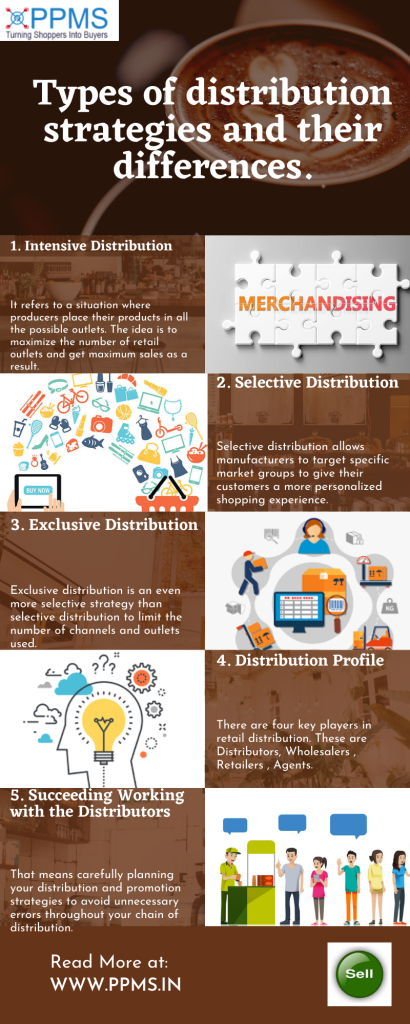 Intensive distribution is, as the name suggests, intense. It refers to a situation where producers place their products in all the possible outlets. The idea is to maximize the number of retail outlets and get maximum sales as a result.
An intensive distribution strategy is ideal for products such as chewing gum, soft drinks, beer, and cigarettes that are routine purchases and require minimal effort, close to zero, to sell. For these products, the total sales revenue is directly proportional to the number of retail outlets used.
As the name suggests, selective distribution is selective. It is the distribution of products in multiple locations, just like in intensive distribution, but fewer and more specific. The idea is to find the most efficient channels and retail outlets for your product distribution marketing.
Selective distribution allows manufacturers to target specific market groups to give their customers a more personalized shopping experience.
Exclusive distribution is an even more selective strategy than selective distribution to limit the number of channels and outlets used. In this case, a manufacturer will manufacture products exclusively for a specific retail distribution network and not any other.
Exclusive distribution is a common strategy with high-end products such as Ferrari, Chanel, and the likes, and the goal is to preserve the brand image.
Distribution Profile
There are four key players in retail distribution. These are
Distributors
– they work hand in hand with the manufacturer to transport their goods to different locations.
Wholesalers
– they buy goods from the producers to sell to the retailers.
Retailers
– they buy from the wholesaler or producer then sell to the final consumer.
Agents 
– they are hired by the manufacturer to represent the brand.
These players each have a different role to play in the retail marketing product distribution process.
Learning how to differentiate between them is crucial to inform your sales promotion ideas for retail distribution strategy.
Succeeding Working with the Distributors
The ultimate success, working with the distributors comes when you find the perfect level of distribution intensity. That means carefully planning your distribution and promotion strategies to avoid unnecessary errors throughout your chain of distribution. You can achieve that by
Maintaining fast and effective communications between distributors, sales teams, and managers throughout the distribution chain,

Monitoring your progress by tracking and analyzing data,
By doing so, you will be able to identify errors before they happen and determine the best ways to solve them.